Horoscope for March 2014 for Sagittarius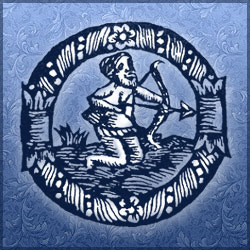 The new Moon in your house of recreational possibilities, loves and children happens on March 30th Sagittarius. Your energy will bring excitement in your life. Pure adrenaline will drive you on through March and all those adventures you see on the big screen are your dreams. Do something totally out of the norm. Go skydiving with a friend, learn to paraglide with a group, and take your elderly grandmother with you out bungee jumping. Whew!
Venus and Aquarius are joining together and if you are unattached you will have many people parading past you just begging to get to know you. They are admirers who want to be with you and recognize what charisma and talent you have. You might also find someone that you immediately fall in love with. Yes, there is love at first sight. It will take all your courage, energy and personality to get this person just to talk to you however.
March is the best month of the year to investigate a new business. Venus, who is also the heaven's accountant, inspires you to take your wonderful hobby and turn it into an enterprise. Your house of entrepreneurial thoughts on March 5th will stay with you all month. Use your sense of humor to lighten things up from March 15th to the end of the month. Charm your love or a potential love and ask them to listen to your ideas. Don't say things in the wrong way and confuse them, just be clear and concise.
On the 16th of March the Full Moon will open in Virgo. This is not a really energy filled sign, but it can be enjoyable. Career matters and authority figures come in second to your relationships the last week of March. If you want a raise, however, or a sign-off on a project you will need to listen to what they have to say and take it to heart.
Rewarding days for you Sagittarius include the 1st and the 13th. The 14th is an awesome day to sign papers on a new rental space and the 18th will be the closing date. Take the 30th to celebrate your new business venture or your new job. Listen to those around you as they buzz with excitement for you. Now is the time for a party!
You will be challenged on the 10th and 11th. Don't pay attention to anyone who is dissing you on the 22nd and run away from pit bulls on the 23rd. Take care that you do not go to the dog park and get bitten by a Doberman. Why this is important is unknown, but it is. On the 30th you will be so very overwhelmed at what you need to do to start a new business. You are wondering why you are doing this. The challenge on the 30th is to keep your excitement and energy up and your dark thoughts low.
Horoscope for March 2014 for each zodiac sign
Horoscope for March 2014
Horoscope for March 2014 for Sagittarius