Horoscope for March 2014 for Pisces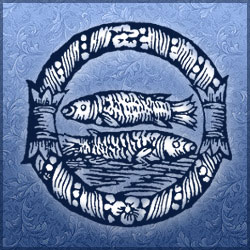 March 1st is the new moon Pisces. The Sun and the Moon move together in your sign. There will also be an easy trine from Jupiter in your house of recreation, family and love. Share your joy with those around you. Someone from your immediate past comes back into your life. It is so unexpected, and the temptation to forget all the bad times you had will be difficult to resist. Make sure that if you see this person you do it in a place that is of your choosing. Don't be manipulated. Take care.
The Full Moon on March 16th activities your dealings with all those around you. You learn things about your love that hurts a bit, but does make you feel pity for them. If you need to leave a situation with friends that is damaging, the 16th is the day to do that. Positive relationships will flourish on the 17th and 18th.
You are involved in a financial battle that you feel you can't win. The situation could reach explosive levels during the early portion of March. Mars turns retrograde on the 1st and insists that you make up new contracts with friends and partners. Resistance will be in the works, but you can insist that they be signed. On the 1th of March Saturn meets up with the Sun to tell you that you deserve what you get. There is nothing more you can do.
Dreams are important to you Pisces. This means you nighttime and daytime dreams. They are so very prophetic. When Mercury moves into your house of psychic abilities on the 17th, write down all the thoughts that you have come into your mind. They will be important. Pay attention to symbolism in your life and subconscious. Look at different symbols around you and find meaning in them. On the 22st through the 23rd your psychic abilities will be on high. Your intuition will be widespread and you will almost be a soothsayer for your family and friends.
Sad and challenging days for you Pisces include the 3rd and 10th. These are days when no one believes in you. You feel lost and alone. Don't despair, the 11th brings a bit of a respite to your soul. The 15th is very challenging and you do not get paid for your work with the amount you feel is necessary. March 16th is a disappointing day when friends do not listen to your warnings. On the 29th and 30th you will definitely find that nothing is going right. You have a flat tire and no psychic intuitions can stop that! The 30th brings rain and wind and you lose your umbrella.
Happy days for you in March Pisces include the 1st. The new moon is awesome and awakens your psychic abilities. On the 12th and 13th find happiness in family activities and the 14th culminates a visit that you have been long waiting for. The 17th and 18th of March are happy days and you begin to plant your herb garden. Take time to be very happy on the 22nd and 23rd. The 28th is a perfectly wonderful day to be alive. Just sing and smile. Take joy in everything.
Horoscope for March 2014 for each zodiac sign
Horoscope for March 2014
Horoscope for March 2014 for Pisces