Horoscope for April 2014 for Capricorn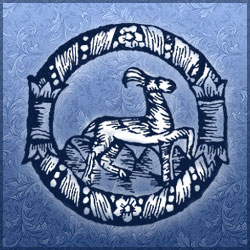 You will feel so very domestic Capricorn when the lunar eclipse on the 15th activities your house of professional and personal responsibilities. You are devoted to your home and job so it might be a difficult time. You will feel torn between career and home. Your significant other may issue an ultimatum. You will probably stay with the career which will be a benefit for your family in the future.
Mercury and the Sun spend most of their time in your house of home and family and Aries moves around is quite passionate. Passion can be awesome, but it also leads to anger and you are angry. If you are walking a tightrope for a bit, you will soon find that things are worthwhile.
Your professional success will come early to you this month. Don't overact to criticism that will fly at you on the 8th, 16th and 23th. Just take all comments with a grain of salt and know that you are doing the best you can do and it is good.
Your children will take up a great deal of time later in April 2014 Capricorn. They will continually ask for emotions and possessions from you. They just might want your attention which has been gone for quite a while. Talk to your children and schedule them into your time. You may find they are awesome people in their own right.
Wonderful days for you in April 2014 Capricorn are the 2nd and 16th plus the 17th and 18th. These are days where everything seems to go right in family, career and life in general. On the 20th you will get a bonus and a reward and the 25th another accolade comes along. On the 26th just stay happy.
Crazy days are the 1st and 3rd plus the 7th and 8th. These are days where you need to draw in to yourself and just work as quickly as you can. On the 14th and 16th you may find that you don't need to stay at work, but if you leave early you will be unduly criticized. On the 21st be careful you don't leave the house without an umbrella. Take care to watch the skies on the 22nd and try and define the mood of your significant other. You don't want gloomy skies in the environment or in your home. On the 23rd listen to what others are saying, but keep your own counsel.
Horoscope for April 2014 for each zodiac sign
Horoscope for April 2014
Horoscope for April 2014 for Capricorn