Horoscope for July 2013 for Taurus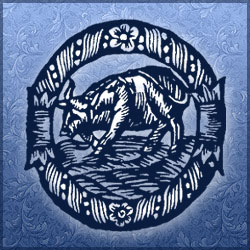 Taurus, get things organized during July 2013. Develop an action plan. You have the reputation of finishing everything you start out. You are very determined and stubborn that assignments will not be left by the wayside. You will not go with the flow unless you make the conscious choice to be changeable. July is not the month to be inflexible, so make sure you know what the price is of stubbornness and inflexibility Taurus.
July 2013 is the perfect time to work with your hands. You might find great success in your dream of building something be it furniture, a home, or remodeling projects. You might just find that your greatest joy this month is finishing that room you have wanted to add on to your home. Keep your family in the loop in all your projects, Taurus. If they know what you are doing they will be very happy to help.
You rarely jump into anything and commitment takes you a very long time. You may find that if you think through tings too much you will lose the edge you had when first starting a relationship. During the first of July 2013 you will have a challenge to keep a relationship together. You thoroughness of wanting to know what is going on in every aspect of someone's life will backfire around the 15th and you will find yourself alone for the rest of the summer. Do take care to be kind and thoughtful.
Cherish your family Taurus. You are high loyal this month and pride in your accomplishments runs very deep. This is an awesome trait and will give you a sense of family during July. Do take a trip with those you love and enjoy you. You love the outdoors and a camping trip might be the answer to your woes.
From the 1st of July 2013 until the 10th you might want to make a thorough examination of who you really are. This needs to be an honest assessment of everything about you from your physical aspects to your health and mental awareness. Implement a good make-over if you find you are wanting. If you are truly honest you will determine that there is always room for improvement and you will take positive action.
Actions this month need to include a good working relationship with your colleagues, your boss, as well as your personal trainer. Do not challenge the system during July. If you feel stressed you need to take a short vacation or at least a day off. Guard against too much interior thinking "I'm the best" during the day s of the 20th and 22nd. Enjoy a sense of contentment with a change of attitude Taurus.
During the end of July 2013 stand your ground and be assertive. You must make the best impression you can and being assertive will show that you are willing and able to take up high challenges. Your get up and get it done attitude is very good and will take you far. Leave your mark on the world in some way by being the best you can be.
On the 25th of July remember that this was once a special day for you. Take time to take off your hat and think about what you have done and where you want to go. Find someone you once loved and give them a smile or a text smile. Not forgiving someone is a trait you need to get rid of Taurus.
Horoscope for July 2013 for each zodiac sign
Horoscope for July 2013
Horoscope for July 2013 for Taurus