Horoscope for July 2013 for Pisces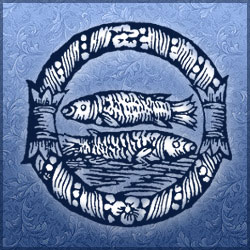 Compassion and intuition are your major strengths Pisces. Your psychic ability is high and you tend to be somewhat unrealistic since your life is so much in your own mind. You are adaptable and easy going which lends itself well to a changeable world. On the 1st of July 2013 take time to write down the plans you have for this month but do be aware that you will need to make changes as situations progress.
People love you Pisces and you are a true charmer. You are a people person and love to be with everyone. You have a way with words and a smile that lights up the room. You avoid making waves and listen when there are items that need to be resolved. On the 4th of July 2013 you will have a great time at a celebration and you will also walk away from a family argument. Being the peacemaker is not your high point; you just leave the situation. You cannot live without a mate. You love commitments and are highly loyal. Your relationship partner on the10th of July 2013 will find this a bit smothering and discuss with you the possibility of separating. This brings a tear to your eye and a heavy beat to your heart.
You tend to be very laid back Pisces and you do need to stop being so soft and mushy. On the 5th to the 10th of July you will need to take responsibility for assignments that require a great deal of work. You may not like the fact that you need to do this work alone, but you will do it. You need an upscale environment to do your job well. Sit by a window and let the sun shine on you while you work.
Finances are always a challenge for you Pisces. You don't have the time or the commitment to make them work. Get an accountant. On the 25th of July 2013 you will need to make a large payment on your home to keep it from going into foreclosure. This is highly distressing, but you do have the funds. Spend them wisely.
You might find that you inherit a bit of money on the 30th of July 2013. You are not sure why or what to do with it, but you will discover that it is not much. Put it in the bank for a rainy day and take care yourself.
At home during the entire month of July 2013 you need to be mentally active and make changes that turn your home into a place of fun and pleasure. You might want to look into buying a vacation home. Avoid overspending when you are in creative situations. On the 30th of July 2013 you might just go on a shopping spree. Again, remember that you need to save this little bit of money rather than dreaming it away.
Create a peaceful environment during July and you will find that the 1st through the 31st is very wonderful. Your best days will be the 1st, 4th, 15th and 22nd. Keep them in mind.
Horoscope for July 2013 for each zodiac sign
Horoscope for July 2013
Horoscope for July 2013 for Pisces