Horoscope for May 2012 for Scorpio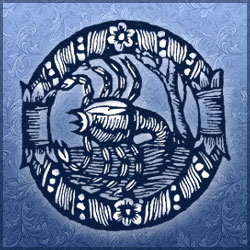 Decan 1 (born Oct 23 to Nov 1) - The confidence and energy initiated in mid-March, boosted by Mars' transit, will continue on during the first weeks of May, until the 19th. While this aspect still goes on, you'll be faced with a challenge: Mercury will opposite your decan from May 9th to 14th, so beware of any signs of anxiety, tension or disagreements; even if you're the "lie-low" type, this week you may find yourself being more aggressive and more confrontational than usual. On the other hand, it is the right time to stand up for what you believe, so use this extra energy to fight for your causes. On May 13th and 14th, Mercury, Mars and Pluto all come together, forcing you to step out of your comfort zone and to defend yourself against any dark forces lurking about. During late May, Pluto takes the stage, creating the long-term transit for you this year and it will surely begin a positive transformation process, full of potential.
Decan 2 (born Nov 2 to 11) - During early May, the Full Moon on the 6th will amply influence your decan, emphasizing your professional relationships and personal relationships and forcing you to create the perfect balance between work and family. This could stress you a little, so don't be surprised if you feel more emotional and out of focus, particularly between the 15th and the 19th, as Mercury opposites your decan. Your social and professional life may become hectic and you may feel emotionally and physically drained, so postpone any important decisions if possible. But don't feel discouraged, since every cloud has a silver lining! Mars will sextile your decan from May 19th onwards and bring new and improved confidence, energy, strength and skills to achieve success; for these next weeks, you can expect to find other people very interested in helping you without any hidden agendas. Your sex appeal will also be skyrocketing, so take this time to unleash those deep passions you may have.
Decan 3 (born Nov 12 to 22) - From May 1st to June 14th, Jupiter will opposite your decan and thus initiating the major transit for you this year; keep an eye out for a tendency to overdo things, to go over the top, to be easily fooled, and to spend more than you can afford. The Solar Eclipse on the 20th will also have a huge impact on this aspect: challenges will seem to come out of nowhere, confrontations will probably escalate and you'll meet some unwanted antagonism. Be prepared to struggle and to stand up for your set of beliefs. The key is achieving the perfect balance between the will to succeed and to move on with your life and the setbacks that you will find during this period. From May 20th to 24th, things may even spiral down, since Mercury will opposite your decan; avoid all type of confrontation and postpone any important decisions, because you won't have the mental clarity necessary for those situations. Relax and keep a low profile!
Horoscope for May 2012 for each zodiac sign
Horoscope for May 2012
Horoscope for May 2012 for Scorpio