Horoscope for March 2015 for Scorpio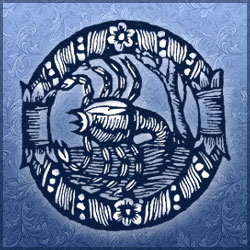 In March 2015 Scorpio will become universally adopted mine of information. Colleagues and friends will appeal to you in any case, starting from yesterday's game result and finishing by your opinion about decrease of population of fishes, which are living in coral reef of Caribbean sea. Topics of the questions will be totally different, so Scorpio will supposed to work on himself in order to avoid losing of his face. For representative of this ambitious sign it's much easier to cut his tongue then accept that he doesn't know something. Horoscope suggests - don't take so close all life situations. Finally, we don't know everything and if we lay an egg - it proves that we belong to human beings, not to heartless machines. But broad world outlook and erudition will play good role for you, especially in winning people's hearts. Really, who will refuse chance to spend evening with interesting witty interlocutor? But after one interesting evening another will follow - and finally it will be so close to something more serious. Only high standards of Scorpios will not give possibility to find their love in March 2015. In romantic relations you don't look like hungry man - you will take a good look at proposal of fate without any hurry; will examine all positive and negative points and ask for additional time to decide. But be careful - while you'll walk by circles asking the price and thinking about future chummery, object of you interest could be stolen right out from under your nose. Love, as the same like business, doesn't endure long hesitation and wavering, so don't pull the bull's tale - act faster.
Those Scorpios, who lost status of single long time ago, in March 2015 could feel desire to go for free diving. Ties suddenly will become too boring and bachelor's dinner will look like best dinner in the world. You'll reexamine presented lie of the land and, if free dive will look more attractive then comfort, - will finish your romantic relations. Try to solve this problem softly and delicately because your partner is alive human, who doesn't expect stoke of fate at the moment. Horoscope alerts you - don't be softhearted and don't agree for proposal to turn over a new leaf. If surgeon recognized suppuration, he cuts the infected extremity without any doubts instead of listening patient's entreaty to wait "probably it will heal by itself". The same you should act: all of us understand that parting is painful and unpleasant process, but changes are part of our whole life, even sometimes it could be very painful. What is waiting for married Scorpios more depends on Zodiac's sign of his households. At the beginning of the spring you'll have lot of tasks in your office and small amount of time for your family. You'll spend round the clocks in the office, trying to solve all problems and accomplish all projects, you'll visit your home just to take a meal and change clothes. If your family will understand and accept such kind of life - month will be quiet and peaceful. But if your family will strongly request your attention - you'll get in troubles, because it's impossible to push your organism to work out of limits, and for stabilization of family's climate you'll supposed to pull back part of your energy from job to households.
At the beginning of the spring you will take up close to questions of salary and career: suddenly you'll find out that both of these activities don't have enough high level of development. If you'll put priorities in right way and create accurate plan of activities - you'll be successful, because nobody and nothing could stop Scorpio, who approaches his aim. Your concentration and purposefulness in March 2015 could cause only white envy and admiration. If for signing of profitable agreement will be necessary to spend 3 days in the ambush, looking for potential partner - Scorpio will do it without any doubts. Owing to self-confidence and persuasiveness you can easily achieve your goals - take a loan from tax officer or to sell crucifix to the atheist. There is nothing impossible for you, only unnecessary exists. If Scorpio doesn't want to do something - his chiefs, friends and partners could break themselves into pieces, but Scorpio will not do it and really doesn't care what people around think about him. In March don't think about fails, but always anticipate results and you'll get success quickly!
Horoscope for March 2015 for each zodiac sign
Horoscope for March 2015
Horoscope for March 2015 for Scorpio