Horoscope for January 2017 for Sagittarius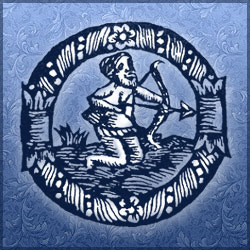 Horoscope for January 2017 will be a very pleasant surprise for Sagittarius representatives. The middle of winter will help you learn how great it is to be the universal favourite, when your income is steadily growing, and how cool it is to feel that your dreams are gradually coming true. However, while Lady Luck gently pats you on the head, try not to fall for such character traits as conceit or vanity!
The personal life of Sagittarius representatives in January 2017 promises to be a period of prosperity and infinite harmony. If in the recent past you and your friend had a very unfortunate incident, the middle of winter will help you to find the words to fully correct your mistakes. If you are single and waiting for the second half to finally appear in your life, January will help you to make an incredible discovery for yourself. During one of New Year's events you will set yourself a bit "loose" with a couple of cocktails, and take a new look at an old friend of the opposite sex. Most importantly, it will be not a momentary impulse, but a real insight (meaning that in the morning after the banquet, you will still consider that this person deserves your closest attention). Married Sagittarius representatives will meet 2017 in confused feelings. During holidays you will get so many gifts and favours from your second half, that it will make you suspect that your beloved one is waiting the same from your end. Making clumsy attempts to become more romantic, you will achieve one thing: your partner will tell you hardly holding their laugh - "Oh well, I do not need your surprises, I'm happy with the way the things are!".
Professional and financial aspects in January 2017 will surprise Sagittarius representatives with the tendency to steady growth. If you are an employee of a company, you can expect receiving the news of your transfer to a new position immediately after the holidays. Do not try to grasp how and why your superiors made such a decision! Take the news as another nice gift from Lady Luck and begin to comprehend your new duties right away. Sagittarius representatives involved in their own business will be able to take a rest from the schemes of their long-standing business competitors. There is a chance that these people will decide to fully retire, freeing unlimited scope for realizing your boldest ambitions. But before that happens, you should not lower your guard.
January 2017 promises Sagittarius representatives a rather strong health; it is expected to be at its highest point. You will have time to be everywhere, never experiencing any winter colds, running nose and fever. The only point you should pay attention to is your weight (there's no need to console yourself with the hope that after the holidays all extra "kg" will magically evaporate; the middle of winter is the perfect time to stick to a moderate diet, better safe than sorry).
Horoscope for January 2017 for each zodiac sign
Horoscope for January 2017
Horoscope for January 2017 for Sagittarius