Horoscope for April 2012 for Gemini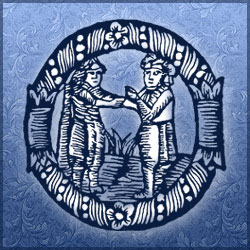 The average Gemini will continue with the highly active period they've been in for a while now, at least through the first half of the month. This is a good time to stick with any exercise and diet programs you may have begun, or if you've not already done so, begin one now. Continue to exercise and train your body to develop to its fullest. The rewards you reap will be numerous and prove that all your effort was not in vain.
You may also find yourself becoming more daring and resolute in your behavior. This will give you an edge in interpersonal relationships, especially those which under other circumstances might become adversarial. Instead, you will be able to use your personal magnetism and charm to your advantage and easily turn others to your way of thinking. If you've been trying to convince someone to come in with you on some sort of business deal or investment strategy, now is the time to turn up the heat. You may discover you get results even better than those you had hoped for.
That charismatic appeal that you're carrying around with you at this time could lead to many new friendships, and quite possibly even a romantic relationship or two. It would be to your best interest to keep things a little bit "light," at least for the moment, however. You may find that long term relationships are simply a bit too much work or bother for you just now and even if you do meet "Ms. or Mr. Right," there's absolutely no hurry to bring the relationship into the serious stage instantly. Take your time, think a lot, think of everything you've got and got to lose. Only then decide what you want to do with the next year or more of your life and more importantly, who you want to do it with.
During the second half of the month you should try to turn your attentions to the home front. There are people there who need you at this time and situations that must be dealt with in order to keep the wheels of your domestic life turning smoothly. You should be thinking about family at this time and how to help someone close to you handle or ease into a difficult situation. Your ideas and opinions mean a great deal at the moment and you should take responsibility for that fact.
Real estate transactions also may figure prominently in the second half of the month. This is a good time to buy something new for your home, make substantial improvements and take care of any other real estate transactions which may be coming down the pike. As your income continues to rise-and it just may at this time-you'll find you have a little more "wiggle room" with regard to investments around the house. If you've been putting off a new kitchen or rec room, this may well be the time to move forward with that project and pad the nest a little. No one appreciates a comfortable lifestyle more than you do. Now's the time to make it happen.
Horoscope for April 2012 for each zodiac sign
Horoscope for April 2012
Horoscope for April 2012 for Gemini