Horoscope for June 2016 for Gemini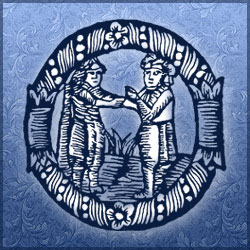 From the beginning of June, the Gemini will be full of energy and optimism, thanks to which they will be at the peak of your features. Therefore, the main condition of your success in this period - evenly distribute the forces and direct them to the most useful direction. In addition, you should keep in mind that your success in this month will largely depend on the quality of relationships with others. The more you will have friends and sincere well-wishers, the greater will be your potential. So, remember the adage: Do not have a hundred rubles, and a hundred friends, and try to quickly establish normal relations even with those who do not cause you much sympathy. And it is absolutely not recommended to you at this time with someone quarrel or to sort things out - otherwise you risk to make enemies who will do harm to you and put a spoke in your wheel. Results of travel, which will go Gemini this month, will be successful in the long run, although the road can be quite tedious.
In June, the Gemini should bet on sensuality and romance - only in this business task they are guaranteed success on the love front. Demonstrate your partner that you are exalted, sincere and romantic - it will calm him and betray him confidence in the strength of your feelings for him. During June, you should be extremely careful not to give your loved one a reason to suspect you of being unfaithful or insincerity, otherwise your relationship with him can be a big threat. Therefore, under no circumstances do not flirt in front of him, and often provide him with all sorts of signs of love and attention. That will seem a mere trifle, it is it is not worthwhile, can be perceived by your loved one is too close to your heart and make him a violent emotional reaction - remember this! Lonely Gemini in June will not be offended by the attention of the opposite sex, but even if they will fall quite suitable for the relationship people, they will not jump to conclusions, but would prefer not to rush to get a better look at him.
Your achievements in the labor field in June will doubtless. But to your superiors drew attention to how well you work, and to assess the true you, you should try to always be on your mind. The more you catch the eye of your boss, the more likely that he had any thoughts about your potential for promotion. So down with the false modesty and more assertiveness and self-confidence - only under this condition you will be able to realize their ambitious dreams! Entrusted to you in June job, you avoid errors, should try to perform with the ready proven, reliable methods. Do not get too carried away fantasizing - this month creative inspiration can you draw and play with you a malicious joke.
Horoscope for June 2016 for each zodiac sign
Horoscope for June 2016
Horoscope for June 2016 for Gemini