Horoscope 2013 for Gemini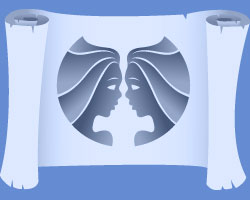 The 2013 horoscope for Gemini is all about the influences of Uranus and Mars. The big thing to focus on for the year is clarity. Gemini will come up with many new options to further their life goals. On the other hand, very real agitation can have a negative impact on your personal life. Hopefully the influence of Mercury will be enough to deal with this problem and help to improve your life.
There are quite a few Gemini who will have legal issues to deal with. The 2013 horoscope for Gemini shows us that the best months for great legal results are March, June, and October. In fact, these are the best months not just for legal issues but for big sales and signing official documents. The beginning of the year shows an awful lot of impulsive decisions. To avoid making the wrong decision, take a step back and look at all sides of the equation.
The 2013 horoscope for Gemini shows a great sense of achievement that can help you feel more confident. If you have an important business transaction that you're not feeling confident about, then try to avoid it. It's all about confidence this year, and you'd do well to avoid situations you know will bring down that confidence. Use your creative resources to get through troubling situations and avoid negative energies at all costs.
There's a good chance of great affection and love in 2013. Gemini, you're committed and dedicated and this is the year it will pay off for you. It may take until the middle of the year, but you'll see your personal projects become profitable, whether financially, personally or both. You'll also try out some new ideas in both personal and professional situations.
You'll see plenty of chances to let others influence you to get off your own track. Avoid this at all costs. Try meditating and remember that material joys are not the key to your happiness. This is the year when you could discover the real key to your own personal happiness. Don't let anything get in your way. Be especially weary of inpatient people in your life, as they're going to try and slow down your personal growth.
Love and Relationships - 2013 Horoscope for Gemini
Take some time in the start of the year to build some special memories with your family. You can do this through family discussions or get-togethers. Not only will it strengthen your family, but it will keep your mind off your business or legal worries. Make your emotional life your top priority in 2013.
Your 2013 horoscope for Gemini is influenced by both Neptune and Saturn. This leads you toward a very constructive mindset, where you'll be able to make some wise decisions that relate to your romantic life. You'll find yourself more willing to be spontaneous, which isn't always a good thing but will be when it means sharing your feelings more readily. The singe Gemini has a very good chance of meeting a wonderful partner in 2013. Be open to it. There's also a good chance it will be an instance of true love at first sight.
New romance or previously committed relationships can see some conflict wit the family. Don't let the family tension ruin a good thing. At the same time, don't try and impose your own decisions on the rest of your family. This is a case of live and let live. Allow your family some time to accept your situation and they'll come around. You may find your partner more demanding in March than they usually are. Don't let this build to resentment and it will soon pass.
Work and Career - 2013 Horoscope for Gemini
The 2013 horoscope for Gemini shows us that it's not the best time to start new businesses. You will have a great sense of optimism, but this can easily be taken too far. Do look on the bright site and believe in your potential, but don't be unrealistic. Your self-esteem is on the brink this year, and it's best to stick to low-risk situations with an excellent chance of a good outcome. Be especially careful with how you respond to criticism from bosses or business partners.
Read:
Horoscope 2013
Horoscope 2013 for Gemini for the year of Snake
The 2013 horoscope brought to you by Horoscope-For.com - free 2013 horoscope for the year of the Black Snake.